Top 5 Reasons Customer Reviews are Important
Guest Blog: written by Bill Crawford, Owner and Chief Executive at Rainmaker For Contractors
Did you know that customer reviews can give contractors like you a sales lift of 18%? No doubt you have hired Contractors for major projects for your own house. Whoever you hired, I bet you are one of the 89% of customers who read online reviews before making a purchase. As a business owner, did you know that 16% of your ranking factor in the Local SEO map section of a search relates to your customer reviews? Here are the top 5 reasons customer reviews are important.

1. Customer reviews give you a sales lift of 18% on average
A study by the Harvard Business School found that online reviews can significantly impact your bottom line. Brands that are viewed positively have better sales, but even improving your star rating can have a positive effect on your sales. The significance of customer reviews demonstrates that positive customer reviews work as the biggest differentiator to push up your sales volume. And according to a survey by Bright Local, customer reviews have been proven to impact the buying decisions of about 89% of their respondents to date.
2. Customer reviews account for 16% of your Local SEO ranking factor
According to the most respected Local SEO tools in the business, WhiteSpark and BrightLocal, 16% of your Local SEO ranking factor is attributed to your Customer Reviews. Most companies spend a lot of money on Search Engine Optimization so their listing gets shown higher on the page. The desired effect of this is more leads. One area that Internet marketing agencies can influence the least is in the area of Customer Reviews. They can provide tools, coaching, and encouragement but the Contractor is the one standing in front of the customer at the end of the job. The power customers have when reviewing businesses has increased exponentially over recent years - and we should be taking advantage!

3. Customer Reviews make you more visible online
Positive customer reviews will ensure your business gets shared on review sites such as Google, Facebook, Angi, BBB, and Yelp. This can be a great way to increase customer awareness for your brand and show the world that you are doing a good job. More visibility typically means more leads. And you might even get some high-profile links from those sites if it's an authoritative one.
4. Customer Reviews expand the conversation about you and your services
Everyone is talking about customer reviews on social media, on search engine results pages, and even on store windows! When people are new to your business they want to know what others think about you. Will this contractor do a good job? Would other customers recommend this service? Does this company stand behind their work? Customer reviews help answer those questions and expand the conversation about you.
5. Customer Reviews open a public conversation
The customer is able to leave feedback on what they think of your service or product. When you answer the customer's questions, show that you care about customer satisfaction, and back up all of this with customer testimonials- it can give potential customers peace of mind before making a purchase decision.
Customer Reviews are customer feedback on steroids. A customer review is not just customer satisfaction or customer happiness but customer feedback in the form of testimonials and recommendations that boost sales, search engine rankings and make it easier for potential customers to decide if they want to do business with you or not.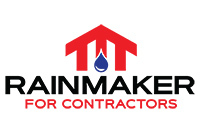 About the Guest Author Bill Crawford, Owner at Rainmaker for Contractors
Founder and President of Rainmaker Internet Marketing, Bill Crawford has a degree in Business Management and Business Finance from Illinois State University and an MBA from National Louis University. Bill brings 28 years of Management and Marketing experience to Rainmaker of which the majority comes from the Home Improvement Industry. Bill is a 13-year board member and former President of the Basement Health Association, which serves some of the following home Improvement industries: basement waterproofing, radon, mold remediation, indoor air quality, basement finishing, structural repair, crawl spaces.
Register for the Free Webinar to Learn More
If you already know how important customer reviews are to the future of your business but just want some great tips and tricks, this webinar is for you. Rainmaker for Contractors has worked with Contractors all over the country in helping them establish habits and routines in their company so that Customer Reviews just become a standard part of everyday business processes.
Register for a free webinar called: 5 Star Customer Reviews, Business as Normal!! on October 28th at 10am CST.
You will learn what the best Customer Reviews tools are, the power of multi-channel communications, the team sport of reviews, how to create a company culture of customer reviews, and so much more.