Digital Signatures
Create Custom Contracts Fast and Allow Customers to Easily Sign-Off
We make it easy for your customers! Our digital signatures don't require a customer login to sign your work agreement. They can sign right from their inbox!
Automated Contract Creation
Everything You Need and Nothing You Don't
Create a robust contract with all the language you need but nothing outside the scope for that particular job. As you add line items to your estimate, our contract creation function will automatically pull in the language that pertains to those products and services. The result is a robust and professional contract with disclaimers, waivers, warranties, and other legal-language specific to the job.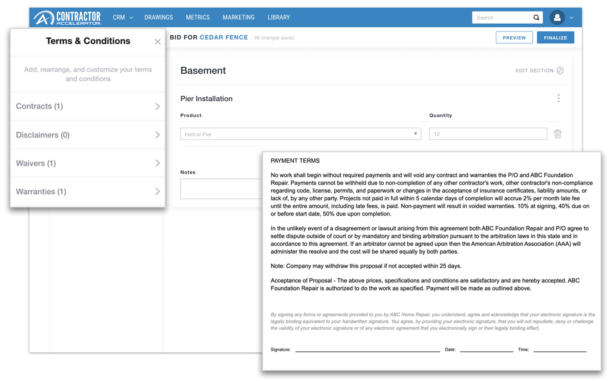 ESIGN Recognized
Signatures Are Legally Binding
An electronic signature in Contractor Accelerator is a legally binding equivalent to a handwritten signature per the United States Electronic Signatures in Global and National Commerce Act (ESIGN) that passed in 2000. Once signed, the software will automatically save the document on the project for you and send a completed copy to the signer.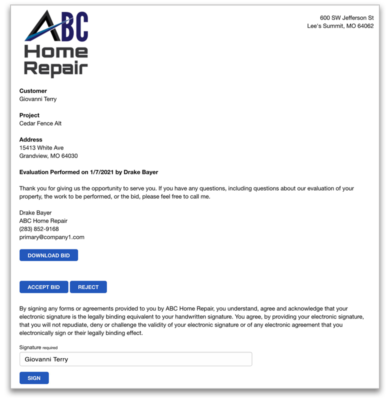 Risk Mitigation
Track Every Version and Customer Action
Sometimes customers see the estimate and have sticker shock or need to make changes despite your recommendations. But editing the bid means you would lose the original details. Now you can keep the initial bid intact then quickly create a copy, make the changes necessary, and present an alternative proposal and contract. The system will keep the original proposal with the date and time it was rejected and the new modified bid.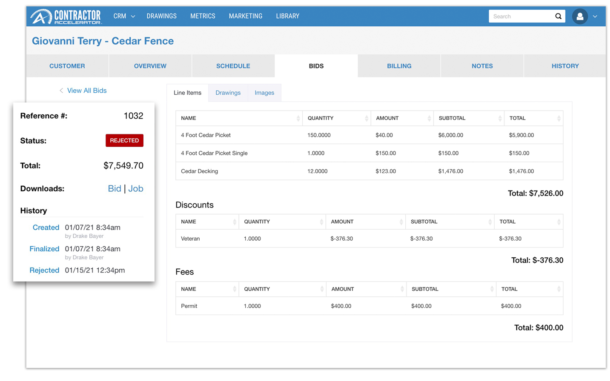 User-Friendly
No Roadblocks to Getting a Signed Contract
Present the bid and contract during the first visit. Make it easy to win the job with a quick signature on your device. Alternatively, your customers will automatically receive the estimate and electronic contract via email. There is no need to create a login or fill out a registration form; your customers can digitally sign the document right from their inbox.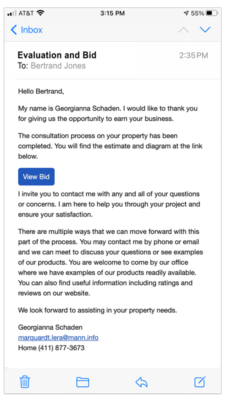 Socially Responsible
Reduce Waste and Emissions
Using paper contracts requires a lot of resources, time, and money. Simplify your process with electronic contracts and digital signatures. Switching to digital agreements means no more carbon paper, making copies, or driving across town to pick up signed paperwork. With Contractor Accelerator, you can save money, reduce waste, and promote sustainability!