Professional Bids
Win Jobs Faster With the #1 Bid Creation App for Contractors
As a contractor in the residential repair-specific industry, you are used to creating bids for new projects. With the help of Contractor Accelerator, the bid process can be smoother and faster than ever. Our bid creation application, specifically developed for contractors, produces a robust and professional bid with all the right specifications in just a few quick clicks.
Customized
Unique Forms for Each of Your Specific Services
You offer specific services, so you need customized forms for each job estimate. If you need a specific calculation, we can simply add it to the form. From there,, all you have to do is input the information and the system will do the math for you. Manage each bid function and the estimating process with ease, and remind your sales team exactly what you need on each form. Want to remind the evaluator to take a specific measurement? Just add the question to the form template so that step doesn't get missed.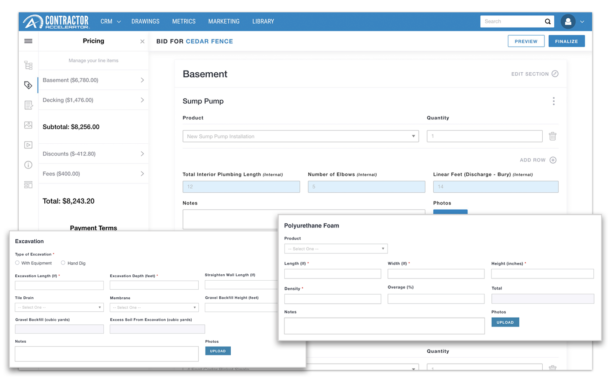 Fast and Easy
No More Late Nights Finishing Bids
Our software makes it easy to get your proposal package with the correct project details every time. Simply pick the service you are providing your customer, select the products from the dropdown list, fill in the blanks, and you're done. The system will calculate the financials, add descriptions, clarify the project estimate, and include necessary terms and conditions. You can even preview the bid to ensure everything looks exactly how you want it. Then, present it live to your customer during your first meeting. They can also review and sign the bid documents later from their email.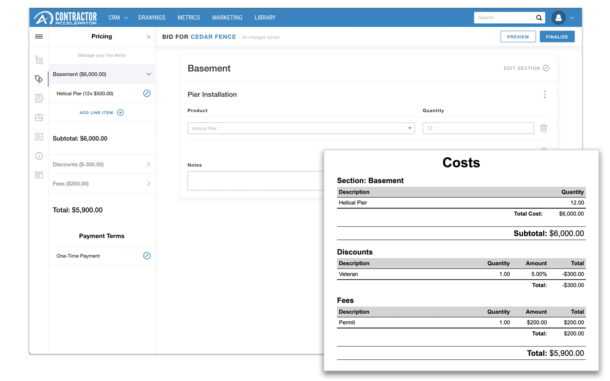 Streamlined
Pull in Job Specifics Automatically
Every time you do a job, you'll likely tell your customer about your building process, including how you prep, how long it will take, how you leave the area when you are done, etc. Any key features you repeat between jobs can be automated with our bid content options. Each time you select a service template, the specific text you created will be automatically populated into the bid presentation. Say goodbye to cutting and pasting or rewriting the same thing over and over and say hello to bid presentations that are fast and consistent.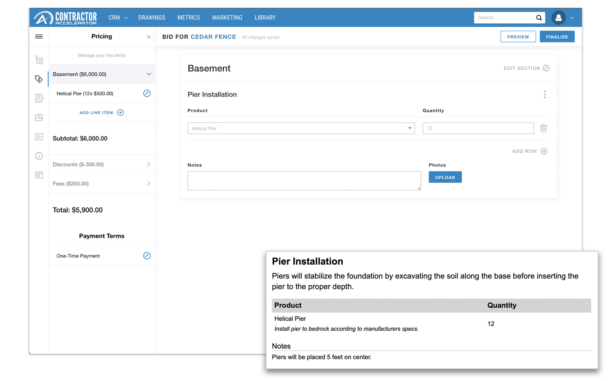 Automated Terms and Conditions
Include Only the Portions That Pertains to That Job
When including your terms and conditions, customers don't want to read a 100-page contract with information that does not pertain to their specific job. Rather than manually combing through your contracts and adjusting different sections, Contractor Accelerator allows you to assign waivers, warranties, contract language, and disclaimers to specific products. This means each bid package will include only the key information for the project.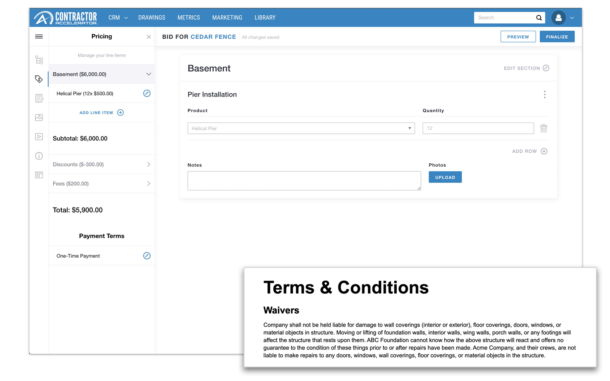 Polished and Detailed
A Professional Bid Your Customers Can Understand
Customers love visuals. Small details like photos, a drawing showing your recommendations, or a brochure with images of your products and processes can be the details that win the job over your competition. Manually creating a bid with these details can take hours, and printing high-end marketing pieces can get expensive. Contractor Accelerator allows you to include these kinds of details in just minutes and for no extra cost! You can add marketing PDFs, job photos, and digital drawings to your bid, so your customer has everything they need to make a buying decision in one professional, digital file.