Schedule Smarter
Get Conveniently Mapped Routes and Automated Reminders
The integrated Google Maps and Google Calendar show daily appointments, routes, directions, and street view images, making job scheduling easier and routes more efficient.
Smarter Routes
View Appointment Locations on an Integrated Map
Tired of crisscrossing town? With Contractor Accelerator, each appointment is indicated by a color-coded pinpoint on the integrated map. You can easily see who is scheduled to be in each area of town and when. The location of the active appointment you are working on scheduling will also show on the map to quickly see which team member will be geographically closest.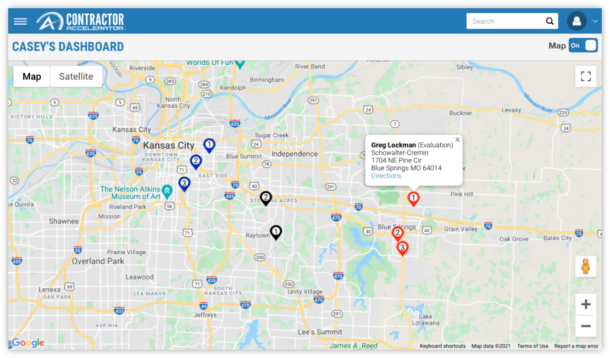 Schedule by Role
Schedule Sales Reps and Installation Crews
Each user is assigned one or more roles within the system, such as sales, installation, etc. These roles allow that user to be scheduled for either sales appointments, installation appointments, or both. You won't accidentally schedule a salesperson for an installation or visa versa. When scheduling an appointment, you can filter the calendar for a clearer view of your team's availability.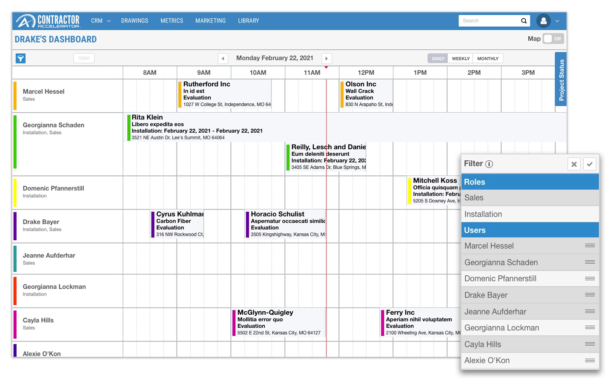 Multiple Views
See Monthly, Weekly and Daily Schedules
In just a few clicks, you can get your daily, weekly, or monthly schedule. Click into any appointment for more information about the customer, location, or project.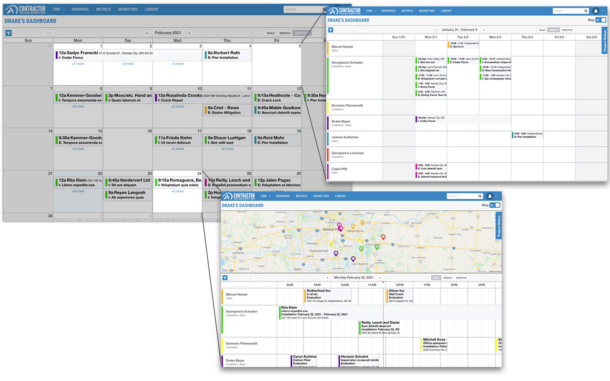 Integrations
With Google Calendar and Google Maps
Access appointment information from anywhere with Google Calendar. See location pinpoints on the map, check out street view images of the property, and even get turn-by-turn directions using the best in the business, Google Maps.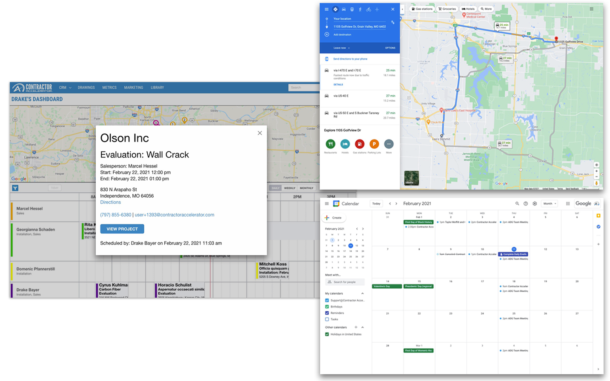 Quick Changes
Moving Things Around Has Never Been Easier
Be it the weather or other factors, sometimes plans change. You need a schedule that is flexible. In Contractor Accelerator, you can simply drag and drop appointments to a different salesperson or installer. The system will update their integrated calendar and, if selected, send the customer an email automatically alerting them to the new appointment.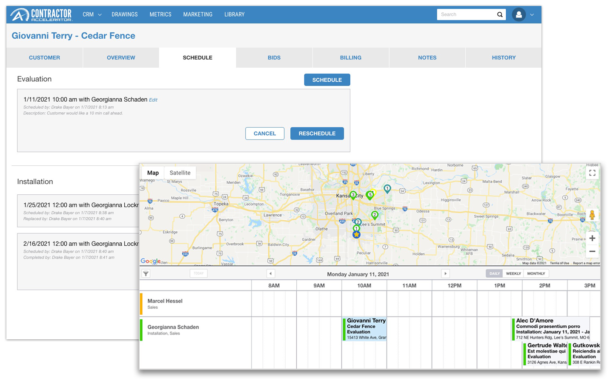 Appointment Reminders
Send Automated Confirmations and Reminders
Your customers are juggling their own schedule, and let's face it, sometimes things get forgotten. It is time-consuming to send manual email reminders or call every customer before their appointment. Now you don't have to with Contractor Accelerators automated communication. Each time you schedule an appointment, your customer will receive a personalized message confirming the appointment and additional reminder emails or text messages. We also understand that your schedule might be fluid as well, so with the click of a button, you can choose to send the reminders or hold off until your schedule is finalized.