Digital Drawings
Create a Professional Sketch Faster Using Industry-Specific Elements
Creating a professional bid for your contracting company is important to your team's success. However, CAD designs take too much time, and sketching with pen and paper doesn't always give the most professional first impression. Improve your design process with the Contractor Accelerator industry-specific drawing app as a great way to make customer-ready 2D digital plans in just minutes while you're at the job site.
Mobile
Draw at the Job Site
Improve your workflow when you can draw out your bids and designs with clarity as you're talking to homeowners at the job site. Use your mouse, trackpad, finger, or stylus to sketch your 2D digital floor plan on your tablet, desktop, or any mobile device.​​ Enjoy more flexibility than traditional design software with quick edits to plans and easy shareability. You can quickly draw the job site from anywhere! Yes, anywhere! Even when cell service is low in remote areas, the drawing saves locally until the device reconnects with the software.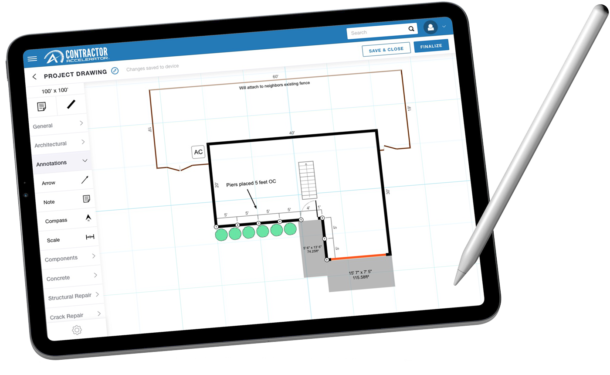 Preloaded
With Industry-Specific Tools
The drawing software is designed for residential contractors, like you, who need industry-specific elements. Whether you are in foundation repair, painting, fencing, flatwork, flooring, roofing or another residential renovation industry, we have the drawing tools you need. Quickly add elements such as doors, windows, stairs, piers, beams, anchors, fences, gates, pumps, drains, vegetation, utilities, and more to your designs. These tools are preloaded, so you can create professional, detailed drawings in just minutes with the additional features you need.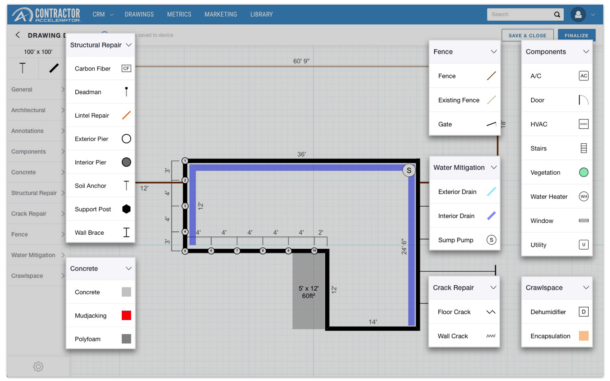 Free Draw
Any Size, Shape, or Color
Enjoy greater flexibility as a vendor with our drawing software that takes your business to the next level. The general shapes and free draw function allow you to add elements to your drawings such as decks, pools, creeks, fireplaces, furniture, and more. You can even change the colors of these elements and add clarifying notes for your customer and installation team. These key features of our design program will allow you to communicate with more clarity for each specific project.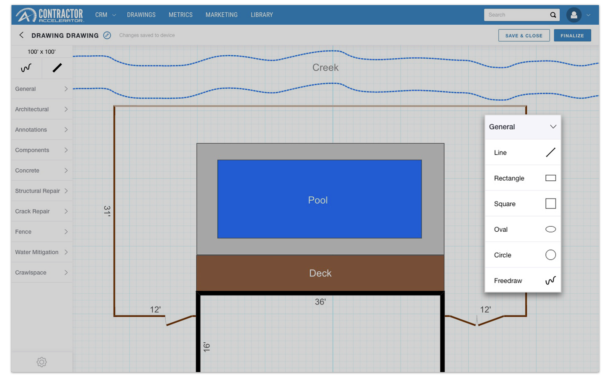 Adaptable
Output for Customers or Installers
As you're working on a residential project, your team members will need more details and information than your customers may require. Control exactly what your customer sees with the ability to turn on or off the full or itemized measurements and square footage calculations. The duplicate drawing function also saves time when you need to make changes, add installation notes, or make other adjustments to your digital drawings. Save yourself time with models and renderings that work for your customers and installers.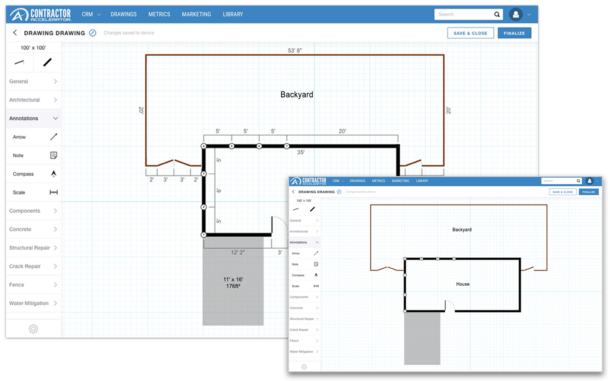 Effective
Fast, Clear, and Professional
Digital drawings allow's you to provide clear recommendations much faster than you can with a pen and paper. At the initial homeowner meeting, you can create the digital drawing and price estimate to provide that bid right away. From there, present your recommendations to your customer, get a signed contract, and collect a deposit all before leaving the job site. Make life easier for your team of construction professionals with clear and effective software that is easy to use.