Digital Drawings
Create a Professional Sketch Faster Using Industry-Specific Elements
CAD designs take too much time and sketching with pen and paper doesn't give the most professional first impression. Our industry-specific drawing app makes customer-ready 2D digital plans in just minutes while you're at the job site.
Mobile
Draw at the Job Site
Use your mouse, trackpad, finger, or stylus to sketch your 2D digital floor plan on your tablet, desktop, or any device. You can quickly draw the job site from anywhere! Yes, anywhere! When cell service is low in remote areas, the drawing saves locally until the device reconnects with the software.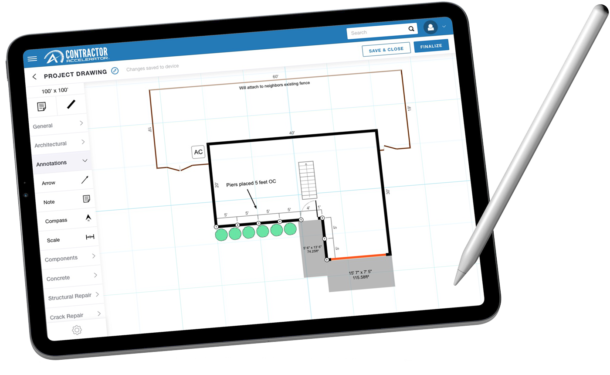 Preloaded
With Industry-Specific Tools
The drawing software is designed for residential contractors, like you, who need industry-specific elements. Whether you are in foundation repair, painting, fencing, flatwork, flooring, or another residential renovation industry, we have the drawing tools you need. Elements such as doors, windows, stairs, piers, beams, anchors, fences, gates, pumps, drains, vegetation, utilities, and more are preloaded, allowing you to create professional, detailed drawings in just minutes.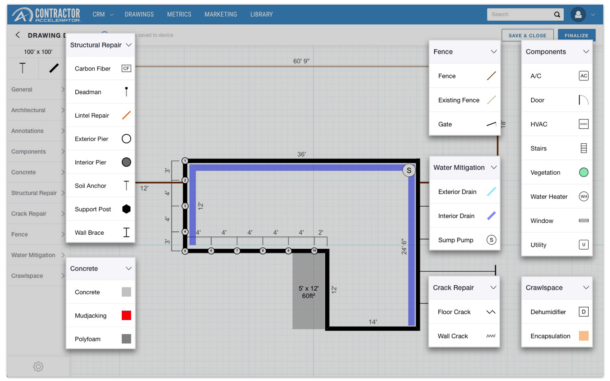 Free Draw
Any Size, Shape, or Color
The general shapes and free draw function allow you to create anything you need in your drawings, such as decks, pools, creeks, fireplaces, furniture, and more. You can change the colors of these elements and add clarifying notes for your customer and installation team.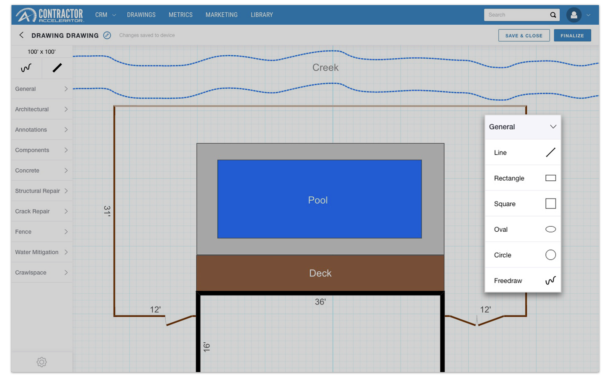 Adaptable
Output for Customers or Installers
Control exactly what your customer sees with the ability to turn on or off the full or itemized measurements and square footage calculations. The duplicate drawing function saves time when you need to make changes, add installation notes, or make other adjustments to your digital drawings.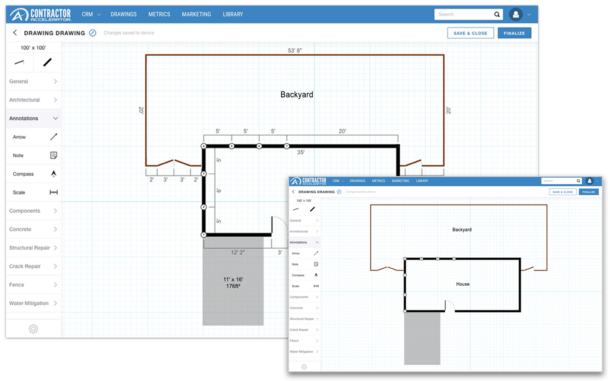 Effective
Fast, Clear, and Professional
Create clear recommendations even faster than you can with pen and paper. At the initial meeting, you can create the digital drawing and price estimate, present your recommendations to your customer, get a signed contract, and collect a deposit before leaving the job site.