Get Going Faster With Setup Wizard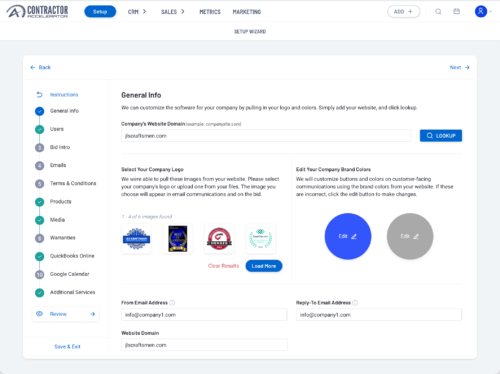 Changing to a new technology that runs your entire business can be overwhelming. With Contractor Accelerator's new Setup Wizard, you can implement the system in as little as 30 minutes!
What is the Setup Wizard?
Setup Wizard leads you through a sequence of small simplified steps to get your company up and running faster. It automatically creates sample templates and products based on your industry and pulls company information, such as logo and brand colors. The wizard skips the optional detailed customization and directs you to only the mandatory implementation steps so you can get going in as little as 30 min. (Timelines vary based on your company's current data accessibility and desired complexity).

Simply click the Setup button in the upper left corner of the software and follow the onscreen prompts. If you do not have the setup button, contact support@contractoraccelerator.com to request it is added.