Quickly Access Bid Information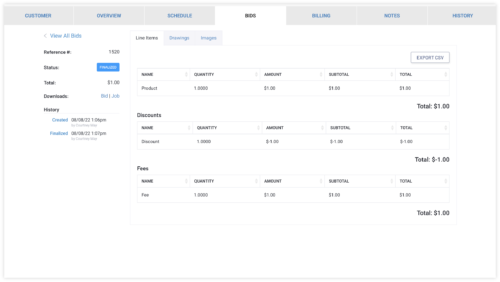 Need to get job information quickly? There are several tools within the bid tab that can help you easily access line items, scope of work, images, drawings, financials, and more without having to download the bid document.
View Details
Select the View Details button to view a concise snapshot of key information such as:
Review line items

See price edits

Access bid images

Find reference number

Check bid status

Review total dollar amount

View history

View custom drawings

Print job details
Scope of Work Document
Select the Scope of Work Document to see an outline of the bid information, excluding pricing in a PDF. Installation users have specific permissions within the system that allow access to all the information they need and nothing they don't. The Scope of Work document shows basic customer information, a materials list, specific bid information, notes, photos, and drawings. There is no need to worry about installers seeing prices; the permission level allows visibility to only the information required to get the job done.

Learn How Contractor Accelerator Can Help
Thanks for reading our Blog. We love getting to know contractors so please reach out and let us know how we can help! Contractor Accelerator is a leading mobile software provider for residential contractors that seamlessly integrates job estimates, digital drawings, customer management, appointment scheduling, and more features in a single platform. The Kansas City based company focuses on creating easy-to-use technology for residential repair contractors to help them organize and automate their business and become more efficient to grow without sacrificing work-life balance. For more information, visit Contractor Accelerator at www.contractoraccelerator.com.