The Top Questions About Global Search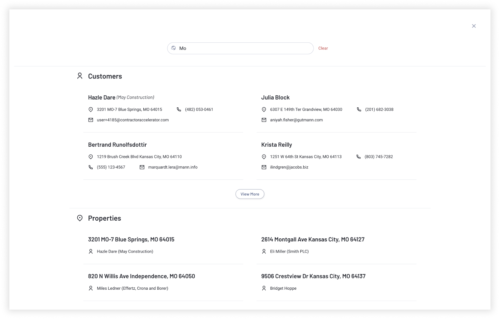 Since the update of our global search feature a few months ago, we've received questions about how it functions and how to utilize the tool to its greatest potential.
1. What are some best practices?
You'll need to type at least two characters for the search to start bringing up results.
Typing in fewer characters can produce more results. This can be especially useful if you're not sure how to spell a name.
The 'view more' button allows you to quickly view a few more results within the search page, while the 'view all' sends you to the table view with all results.
If you click on a result and find that it wasn't what you're looking for, you can use the back button on your browser. When you return to the page, you will see the results from your previous search have been retained.
2. What criteria can I search for?

Customers: Customer Name / Address / Email
Properties: Property Address
Projects: Project Name / Project Number
Project Contacts: Contact Name / Phone Number / Email
Appointments: Appointment Note / Appointment Date and Time
Invoices: Invoice Number
Bids: Bid Number
3. What do the icons mean?

Appointment

User

Project Contacts

Reference Number

Email

Project
Customer

Property

Phone Number
Learn How Contractor Accelerator Can Help
Thanks for reading our Blog. We love getting to know contractors so please reach out and let us know how we can help! Contractor Accelerator is a leading mobile software provider for residential contractors that seamlessly integrates job estimates, digital drawings, customer management, appointment scheduling, and more features in a single platform. The Kansas City based company focuses on creating easy-to-use technology for residential repair contractors to help them organize and automate their business and become more efficient to grow without sacrificing work-life balance. For more information, visit Contractor Accelerator at www.contractoraccelerator.com.