Adding a Customer Without an Appointment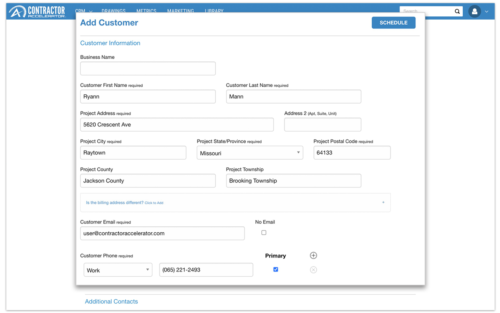 There are a couple of ways businesses go about customer intake; they have the person who answers the phone manage both customer intake and scheduling, or just simply adding the customer and leaving the scheduling to the salesperson. How does this change things when it's the latter?

Customer Intake
When adding a customer to the system, you will go through the normal routine of entering customer and project information. Simply skip the schedule button and scroll to the bottom of the page to save the entered information.
Workflow
Since we didn't set an appointment, the project salesperson will be responsible for following up with the customer for scheduling. You'll notice that during customer intake, right above the save button, there is a checkbox. This determines if a welcome email is sent out or not. The email can remind them who they called and that a salesperson will be reaching out soon to schedule an appointment. If an appointment is scheduled, this email is replaced by the option to send an appointment confirmation email.

Project Status Pipeline
Any projects without an evaluation appointment will be automatically placed in the 'Project Created' status on the Project Status Pipeline. When the salesperson connects with the customer to schedule, it will automatically move into the 'Sales Appointment Scheduled' status. If for any reason the customer changes their mind and doesn't want to schedule an appointment, it's best practice to cancel the project. This will keep the customer record within your CRM but takes them out of the pipeline, keeping it clean with only active opportunities. You can read more about how to clean up your project status pipeline in another post by clicking here.
Reporting
Any new project without an appointment is reported as a lead. You'll see the count updated within reporting based on the date the project was added. This means that in any given month you could have more jobs than leads. This happens when a customer accepts a job in the next calendar month after the project was created.